The question of the week was: How does the ability to use, create and/or manipulate imagery foster effective communication?
As a began to think about the way images foster communication, my thoughts went in many different directions. My first thought was that I am a visual learner.
This week was a very busy one! We are making an iMovie in K3 because they will be presenting at our Learner Celebration next week. Their current Unit of Inquiry is, Who We Are. The Central Idea for the current unit is: The choices people make affect their health. They have studied four main topics during this unit: hygiene, nutrition, exercise, and feelings. Next week they will begin learning more about feelings, so I decided to help them out with a provocation lesson.
Yesterday I came across this article, How to Make Google Presentations Shine and decided to explore some of the presentation templates on the website. There are many wonderful designs and that are different from the ten or so typical themes in Google Slides. This website offers many more options for different occasions.
The two objectives that K3 is studying this week are:
Students will understand the different feelings.
Students will be able to tell someone how they feel and why
Last year at a IB PYP training I learned about Visible Thinking Routines. The See, Think, Wonder routine was one of my favorites and one that also relates well to digital literacy. In this Visible Thinking Routinge, students must say what they see, what think is going on, and what the image makes them wonder. The students answer only one part at a time and build upon their knowledge from what they see – what they see makes them think – and what they think makes them wonder. It allows them to stop and read the images and be critical thinkers of what they are seeing.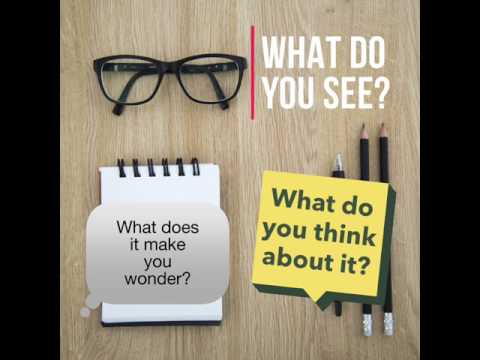 Visual literacy has been defined as the "ability to understand, interpret and evaluate
visual messages" (Bristor & Drake, 1994). According to Wikipedia (2011), "Visual
literacy is based on the idea that pictures can be 'read' and that meaning can be
communicated through a process of reading." – Chapter 3 Visual Literacy by ISTE
In essence the lesson template that I created below allows students the opportunity to understand, interpret, and evaluate the visual images of feelings that they are seeing. It gives them the opportunity to "read" the images to try and see what feeling the person is communicating, which will hopefully prompt them to think about their feelings and emotions and how what we see, think, and wonder can change the way we feel.
I'll be back next week with an update on the lesson – in the meantime feel free to Make a Copy of the slide template and try out the See, Think, Wonder, Visible Thinking Routine with your students.